Truthfully, that Wicked feeling has been here since last week. I've thoroughly enjoyed visiting with all the bloggers on the Wicked Blog Hop and seeing all of these amazing and inspiring projects! Special thanks go to Wicked Wendy for cheerleading and organizing this Hop, Madame Samm for organizing and making these hops possible, and to the awesome sponsors Madame Samm rounded up: Wyndham Fabrics, Reliable Iron and Bird Brain Designs!
Onward! I had so much fun with this project I don't even know where to start, so I'll just share my favorite bits in pictures before I share the whole thing (click if you want to see them bigger!):
Heh, okay, I have a LOT of favorite bits! 😀 Here's the whole of it:
I'm just gonna say it again: this was fantastic fun! That raven embroidery caught my eye on Facebook and then when I saw the Michael Miller Nevermore fabric, it sealed the deal on where to start. I had no firm plan for the whole quilt, but I started with my Feature It! pattern (that you can get free here) because it's just so quick to make and easy to customize depending on what fabric and techniques you use. I just added the embroidery elements and inked lettering and other things as I went along and came up with ideas. I'm sure you can tell I fell in love with Urban Threads embroidery designs and the whole Gothic/Steampunk/Nevermore theme just a little bit!
I'll probably go into more detail about the construction techniques I used at a later date (some of which were really experimental for me and way outside my boxes!), but here's the quick list of techniques and some of the supplies used: machine piecing, machine embroidery, free motion unmarked machine quilting, inking, painting, distressing, Mettler, Sulky, Iris and Aurifil threads, Tsukineko Fabrico Markers and Pigma Micron pens, SoSoft Fabric Paint, beads, watch parts, ribbon, floss, and Hobbs Heirloom Wool batting.
I really love how this quilt turned out–I think it's one of my favorites that I've ever done, but then again, I've probably said that about each quilt I've done…until the next one! 😉 'Tis Just the Wind…It may have to find a permanent home on the wall year round and not just at Halloween. Or maybe I'll just leave it there on the hall tree, since no one ever hangs anything else on it anyway!
Now I have a giveaway for you! Leave a comment to let me know you've been here and tell me what your favorite quilting technique is! I'll enter you in a drawing for my Inchie Quilts book and InchieSee & InchieDo Viewer Tool & Ruler Set. The lucky winner will be drawn randomly on Sunday, November 3 at 11:00 p.m. EST. I'll ship anywhere!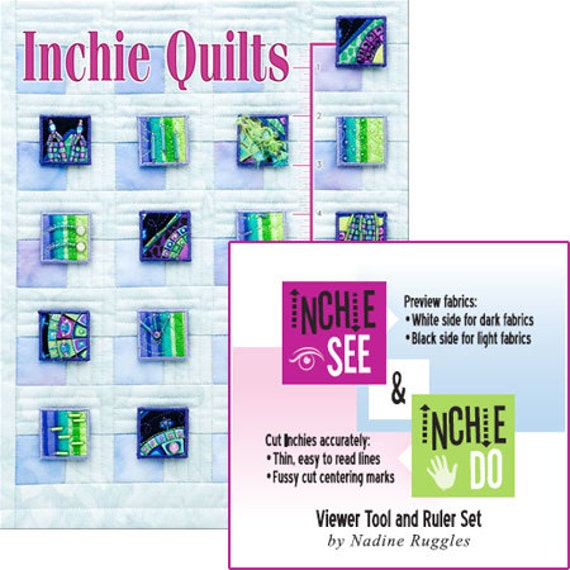 Here are the other blogs on the schedule for today's Wicked Blog Hop:
DreamWeaver's Quilts You're here!
My Quilt Infatuation
Just Keep Swimming
Quilts From My Crayon Box
Daisy and Jack
Thimblemouse & Spouse
Tomorrow's Treasures Today
Why-Knot-Kwilt
Just Let Me Quilt
Sew We Quilt
Be sure to visit them!
I hope you have enjoyed the Wicked Blog Hop as much as I have. Thanks for stopping by and I hope to see you back soon!
Update: Thank you all for your comments and compliments on my quilt. Your kind words caused lots of Warm Fuzzy Feelings over here! I'm pretty sure I answered each of your comments by email, and I hope Outlook didn't make any comment emails disappear. If I did miss anyone, please know that it wasn't intentional!
Also the giveaway is now closed! According to the random number generator, congratulations go out to Vicki H. for posting the winning comment. 🙂